Pop!_OS is an Ubuntu-based Linux distribution developed by System76, a Linux-powered PC manufacturer.
It is such a great distribution to me, that after 6 hours of use I just bought a brand new computer from them!
It's time to retire my Late 2012 Mac Mini anyway.
Here I am posting some settings to remember when my new box arrives.
Sidenote about the shopping process: streamlined BTO form, useful e-mail confirmation with next steps, phone call < 2 hour later to anwser my question about EU plug. Yes, people are actually still assembling computers outside Shenzen, and they are friendly. They even wished me a good week-end 🥲
---
Separate posts
I wrote dedicated posts on the following topics:
---
Checking your current version and configuration
To get an overview as displayed in this post banner, just launch the command: neofetch
---
GNOME extensions
GNOME is the desktop environment on top of Ubuntu.
It comes preinstalled with many extentions, one can see them and explore new ones at https://extensions.gnome.org.
Dash to Panel
Simply put, Dash to Panel remplaces the Mac Os-like top tray bar with a Windows-like Start Menu + Taskbar + Systray. Last time I tried Ubuntu in early 2018 its desktop environment did have a task bar. I don't know why they changed it to a Mac-like Dock.
Right click on the Taskbar to open DTP Settings: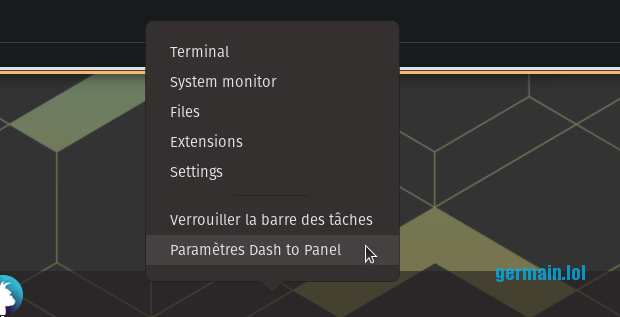 DTP has so many options! Coming from Windows 10, it's like coming out of jail. Coming from OS X it's like paganism. My choices are:
Please note that I am using the system in French. English labels may be different than my on-the-fly translation.
Position (location)

Show DTP on: primary screen only
Activities button: visible. This is an OS X Exposé-like feature (now embed in Mission Control, Windows equivalent: Better Desktop Tool), cool to have it a click away.
Show Desktop button: visible, to the right, 16px wide to avoid misclick, responsive on rollover.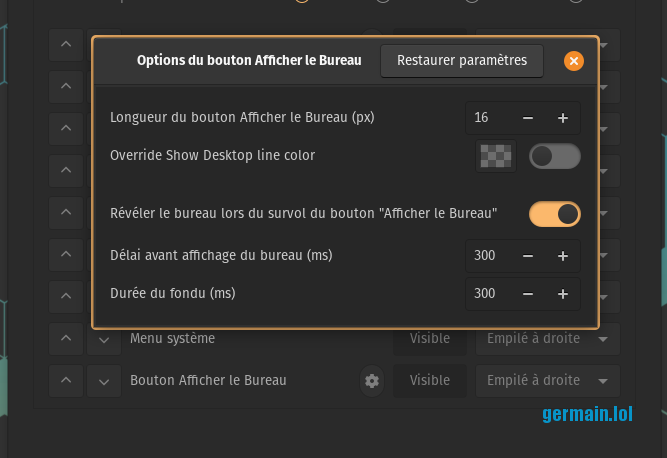 Style

Active apps indicator: Metro. Puts a huge block under the active app in the Taskbar (see Chrome below)
Inactive apps indicator: Squares. Could not differentiate with dots at this size (48px). Adds one dot (well, one square) under the icon of the inactive applications per respective windows. Hard to describe. Easy to understand. Screenshot:






Taskbar opacity: 60%
Behaviour

Show Applications Menu: on. This one is really cool. It shows the active application name and on click it opens its contextual menu:






Show window thumbails on mouse over: on. This mimics Windows's Aero Peak window thumbnails.

Pop Shell
Pop Shell is described on GitHub as the keyboard-driven layer for GNOME Shell which allows for quick and sensible navigation and management of windows. I could only find one way to manage it: going to https://extensions.gnome.org/local/. There I activate the « Snap to Grid » option which mimics what can be done on Windows using tiling/snapping softwares such as MaxTo (which I love).
Of course Pop Shell comes preinstalled with Pop!_OS.
Extra feature: Soft Brightness
I've tried many plugins to control screen brightness without actually changing screen settings, only this one works: https://extensions.gnome.org/extension/1625/soft-brightness/
Honorable mentions
Other cool GNOME extensions, found on r/pop_os: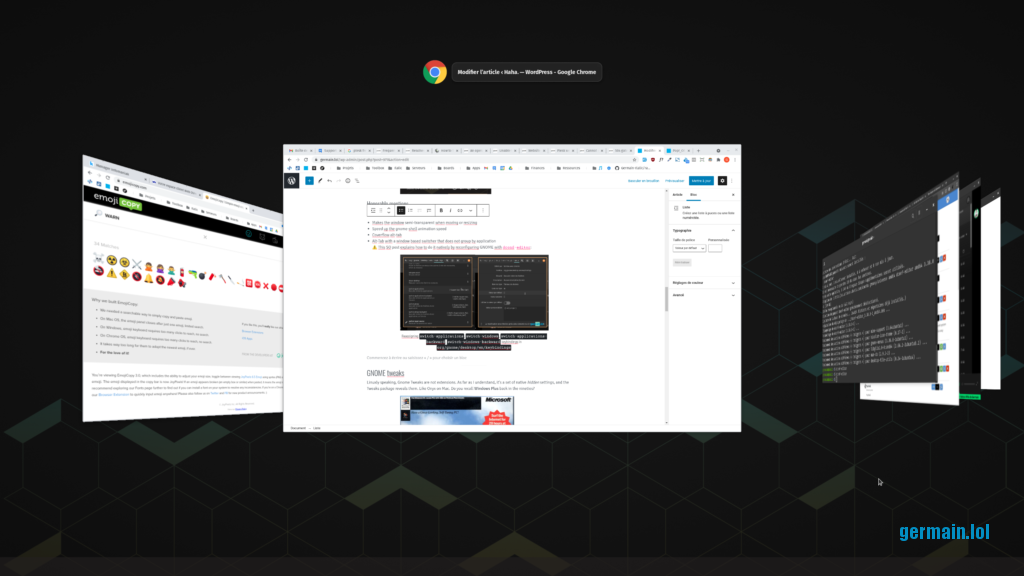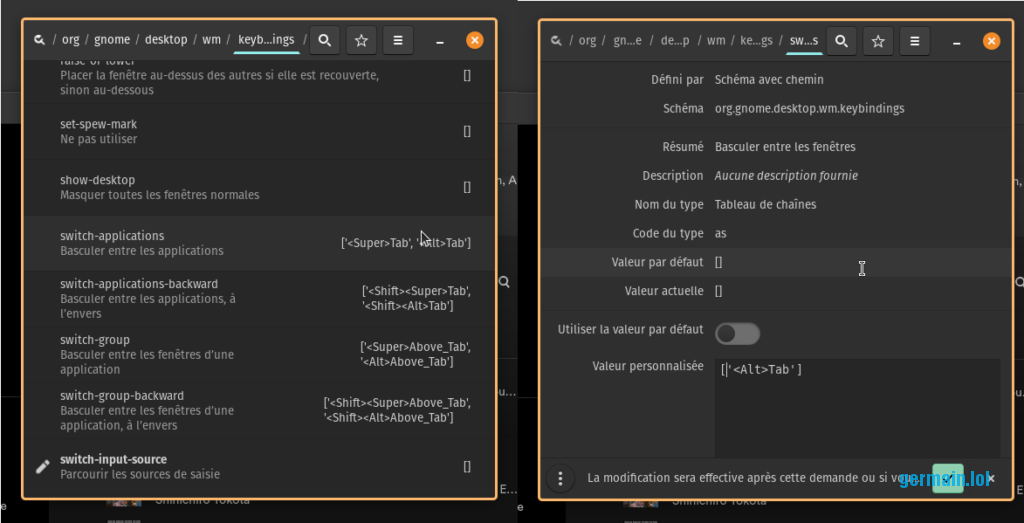 ---
GNOME tweaks
Linuxly speaking, Gnome Tweaks are not extensions. As far as I understand, it's a set of native hidden settings, and the Tweaks package reveals them. Like Onyx on Mac. Do you recall Windows Plus back in the nineties?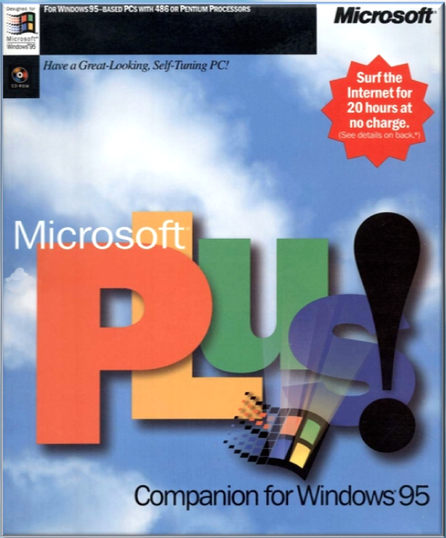 sudo apt-get install gnome-tweaks
It will install a new Tweaks app in the launcher: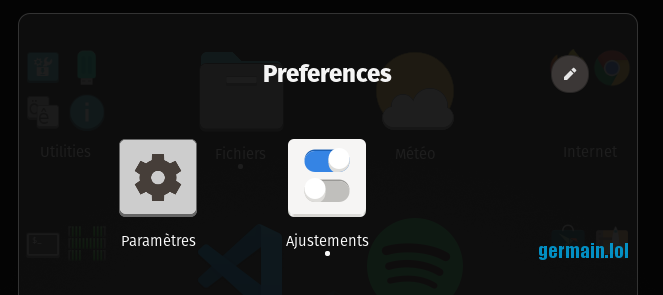 There are many options, I'll only focus on my settings.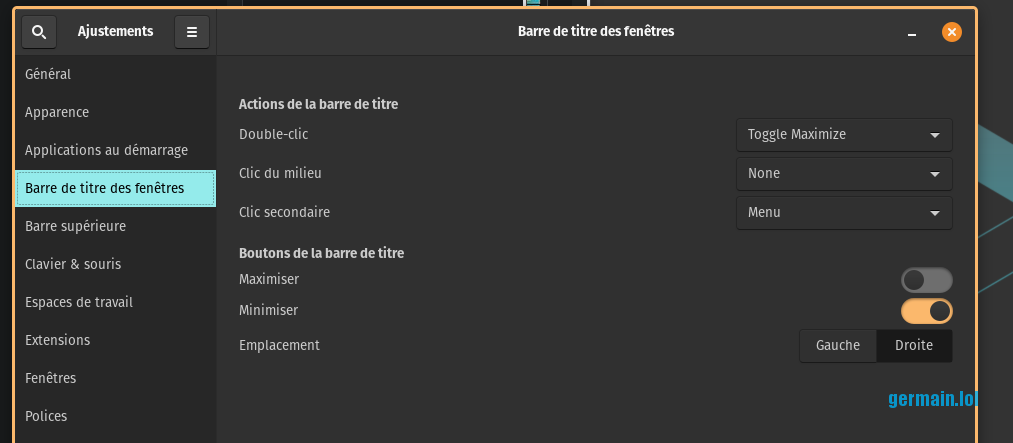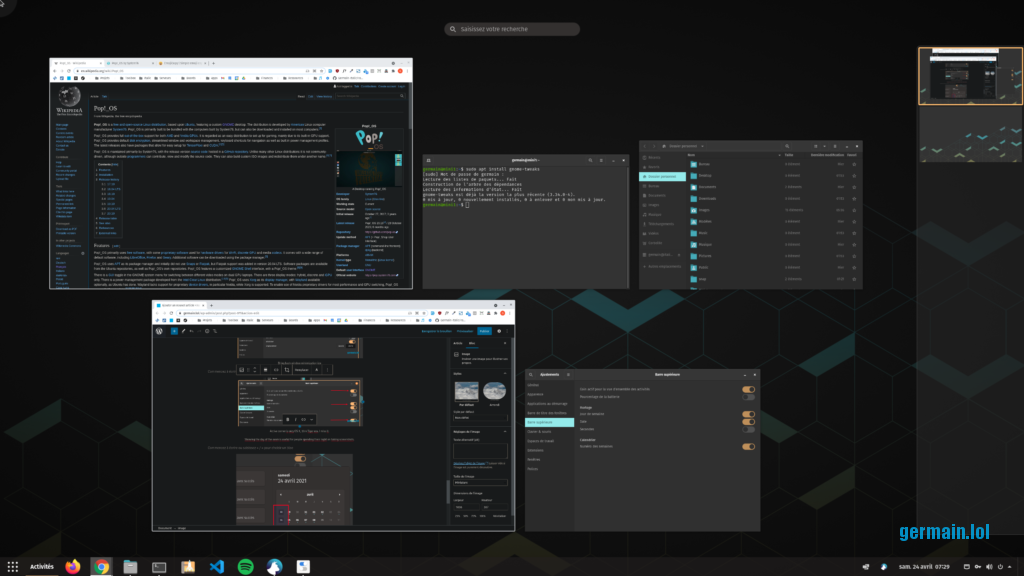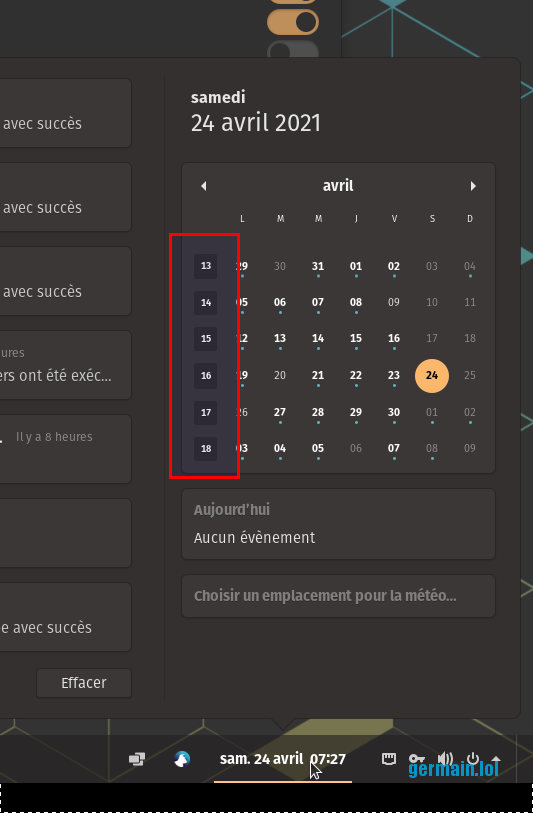 ---
Native settings
24 hours time format
Go to Settings > Date and time > Time format.
---
My keyboard shortcuts
Reminder: this is my setup, not a universal advice.
Accessibility (Accessibilité)
Remove everything.
Screenshots (Captures d'écran)
As explained in Capture, annotate, share screenshots with Shutter on Pop!_OS 20.10 (Gnome 3.38), I start by disabling all screenshot-related hotkeys and put my own for Shutter.
Windows (Fenêtres)
Remove Activate window menu (Activer le menu fenêtre) (alt + enter)
Replace Close window (Fermer la fenêtre) from Super+Q to Super+W
Launchers (Lanceurs)
Replace Personal folder (Fermer la fenêtre) from Super+F to Super+E (same as Windows explorer shortcut)
Add Super+S for Search (Rechercher) edit: not needed as Super all alone does it by default.
Remove everything else
Add Switch window (Changer de fenêtre): alt+tab
Remove Switch application (Changer d'application)
---
Apps
I like that Pop! isn't bloated with stuff.
I installed
System76 could have saved the cloud stuff however.
I uninstalled
Agenda
Contacts
Geary
I'm hesitating on LibreOffice
Weather (I do have windows in my office — NO pun intended)
---
Resources